David Leser will be facilitating both interviews and discussion panels at the 2012 Sydney Writers' Festival. Don't miss the opportunity to attend the thrilling Interview with the Interrogator.
Interview with the Interrogator – Thursday, May 17. 2.30-3.30pm at Sydney Theatre at Walsh Bay.
*(This is a ticketed event)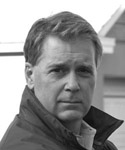 Glenn Carle says he would not use physical torture when interrogating a supposed top al Qaeda operative rendered to one of the CIA's notorious black sites overseas. Carle, who later served as Deputy National Intelligence Officer for Transnational Threats (i.e., terrorism) – the US Intelligence Community's most senior position for terrorism analysis – is the only CIA officer to have spoken out, and written, about rendition, detention, interrogation, and torture. He talks to David Leser about his autobiography The Interrogator (heavily redacted by the CIA) and how he wrestled with what defined his real duty to his country.
To see the entire interview please click here.