Fate has given Gina Rinehart both blessings and curses – unimaginable wealth and poisoned personal relationships. On her way to becoming the richest woman on the planet, writes David Leser, the "Iron Maiden" has fought numerous court cases and now finds herself in a bitter battle with three of her four children.
It's hard to know where to start with Gina Rinehart, Australia's richest person. Perhaps with that history-making image of her father, Lang Hancock, flying over the remote Pilbara region of Western Australia 60 years ago and discovering the world's biggest iron ore deposit.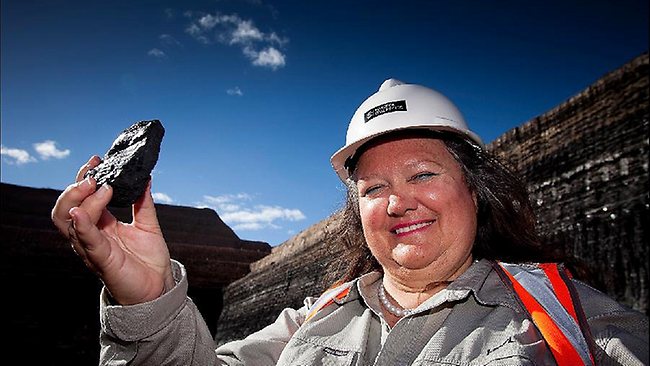 Or maybe the spectacular falling out between this hard-boiled, visionary prospector and his daughter nearly 30 years later when Gina realised the Filipino housekeeper she'd hired to look after her father had – ahem – assumed duties well beyond her assigned brief.
Or possibly the manner of Lang Hancock's death in 1992 when, drowning in his own fluids from cystic kidneys and renal failure, he was then thrown into the psychological anguish of seeing his only acknowledged daughter and third wife, Rose Lacson – the aforementioned Filipino housekeeper – warring over the spoils of his vast minerals wealth?
(Lang Hancock is said to have fathered an illegitimate half-Aboriginal daughter.)
All these points of entry would take us into one of the great unwritten mini-series of our times, but they would only touch the tip of a jaw-dropping narrative that has fascinated – and appalled – Australians for decades.
There is also the 11-year legal battle between the daughter and her stepmother, Gina and Rose, which turned into arguably the most expensive, protracted and acrimonious court case in Australian legal history, involving more than a dozen Supreme Court actions, fraud squad investigations and bankruptcy hearings.
Plus the coronial inquest Gina sought for years in the belief that her wicked witch stepmother had not only ordered a hit on her father but had literally nagged him to death over his will and her anticipated share of the loot.
That was sensational enough, but so, too, were claims at the inquest that Gina had paid witnesses up to $250,000 to appear at the inquest.
"I saw it as worse than mischievous," the state's former Opposition Leader and Attorney General, Jim McGinty, tells The Weekly now. "I saw it as someone [Gina] throwing her weight around because of her money, without regard to the public interest and to those other grieving families awaiting coronial services into the deaths of loved ones.
"Gina paying witnesses was so alien to the Australian notion of justice … I thought the whole thing was a disgrace."
Yes, well, that's all sensational enough but what about the fact that as recently as September last year (2011) three of Gina's children took "urgent legal action" in the NSW Supreme Court to have their mother removed as trustee of the multi-billion dollar family trust set up by their grandfather?
Or that for the past nine years the "Iron Maiden" of Western Australia, as Gina is sometimes referred, has been sued by the children of her father's former partner, Peter Wright, for an increased stake in the three billion tonne iron ore deposit in the Pilbara known as Rhodes Ridge. That's right – two billionaire heiresses, Gina Rinehart and Angela Bennett (Peter Wright's daughter) engaged in an unholy scrap over whether infinitely-more-than-enough money is ever enough.
Or that Forbes magazine estimated last year that Gina's wealth – currently estimated at around $10 billion – was likely to rise to over $100 billion in the next few years (assuming a continued Chinese and Indian-fuelled resources boom) thereby catapulting Australia's iron ore queen into the richest person on the planet. Infinitely richer than the Queen of England (she's said to have a paltry US$450 million), richer even than Microsoft founder Bill Gates (US$56 billion), or Carlos Slim, the Mexican industrialist currently worth more than US$74 billion.
Combine this with Gina Rinehart's recent ten per cent stake in Network Ten, her four per cent piece of the Fairfax Media pie (publishers of the Sydney Morning Herald, Melbourne Age and Australian Financial Review) and her bellicose opposition to the federal government's carbon and mining tax and you'd be safe to say that the Gina Rinehart story has it all: Money (staggering amounts of it), sex, drugs, politics, witchcraft (yes you read correctly), mega business deals, Shakespearan family feuds and an endless trail of litigation.
And much of it set in Perth, the most isolated city on earth, as well as the Pilbara region in the state's north-west where, in summer, it's just about hot enough to toast your brains and, during the monsoon season, suspectible to the kind of flash flooding that unshapes the earth.
That's where this story logically begins, in the Pilbara, with Lang Hancock, a 43 year-old bush pilot, prospector and ultra reactionary, making the discovery of his life, not to mention one of the great discoveries of Australian history.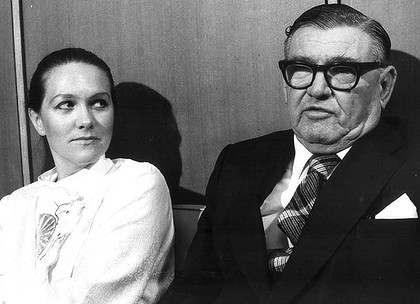 It was November 1952 and Lang was flying back to Perth with his second wife, Hope, when the first storm of the monsoon season struck. As he diverted  his plane along a tributary of the Turner River he looked down and saw a gorge with 70 metre walls shimmering red. It turned out to be an exposed rock layer containing at least a billion tonnes of high-grade iron ore, three times Australia's official estimated iron- ore reserves and the world's greatest iron field.
Everything was to flow from this miraculous, chance spotting. All the wealth. All the sense of entitlement. All the poisonous personal relationships and catastropic fallings-out.
A decade after his historic flight, Lang Hancock struck a deal that was to provide him and his family with incalculable wealth. After battling government obstruction and corporate indifference for ten years, he and his partner, Peter Wright, managed to persuade the British minerals giant, Rio Tinto, to set up a local company that would end up producing millions of tonnes of iron ore a year.
The two partners' then secured a royalty of 2.5 per cent of the value of each tonne of ore exported – worth up to $20 million a year for each family at the time, but now estimated at over $100 million a year.
That became the Hancock family's river of gold, although there were to be other raging torrents at Gina's disposal, especially after her father died. These included the billions in profits that Gina's company, Hancock Prospecting, would share equally with Rio Tinto on a giant 35 million tonnes a year iron ore project known as Hope Downs (named after Gina's mother) plus Hope Downs 2, yet to come on line, but with the potential to produce a further 15 million tonnes a year.
It also included Roy Hill, one of the top ten mining projects in the world, still to have a design and approvals process completed, but expected to start delivering 55 million tonnes of iron a year by 2014.
Add to this fortune Gina's recent sale of the majority of her vast thermal coal deposits in Queensland to India's largest energy company, GVK – it netted her a sweet $1.26 billion – and here we have the perfect exemplar for how wealth gets generated in a boom-bust country like Australia.
We also have a cautionary tale – a Grimm's fairy tale in fact – for how money distorts – and often destroys – relationships, especially in a city like Perth which has flourished for decades on the back of a mining boom.
On September 5 last year, Gina's third daughter, Hope Rinehart Welker, (from Gina's second marriage to New York lawyer Frank Rinehart) together with elder daughter, Bianca Rinehart, and only son John (from Gina's first marriage to Greg Milton), took "urgent legal action" in the NSW Supreme Court to have their mother removed as trustee of the Hope Margaret Hancock Trust, thought to contain a significant portion of the family's fortune.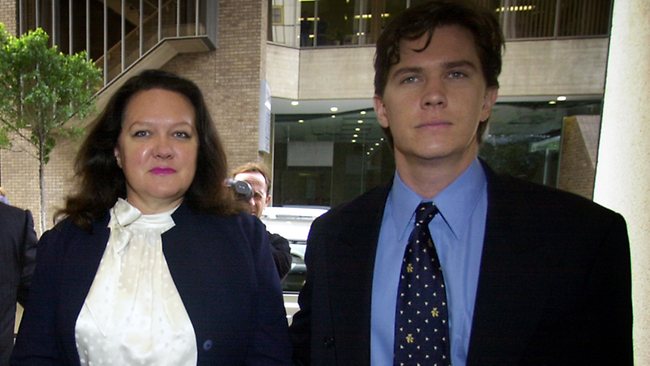 It took nearly a month for the court to reveal the precise nature of the legal action, owing to the fact that Gina applied to have the proceedings stayed. Her lawyers argued that because of a provision in a family deed the dispute could only be resolved through confidential mediation.
The family deed was, in effect, a secret pact that secured an agreement not to "air dirty laundry" in public; this so as to protect the family's public image and limit any commercial fallout following a dispute in 2004 between Gina and her eldest child, John, over his late grandfather's business empire.
At the time, John Rinehart had reportedly felt so aggrieved by his mother's treatment of him that he changed his name by deed poll to John Hancock, claiming that he had been shut out of the business by his mother. He described his mother as a "powerful and controlling person" who had refused to discuss succession plans.
As this story was going to press the NSW Supreme Court was about to rule on whether to lift a suppression order surrounding the legal action taken by three of Gina's four children. At the same time the Australian reported that Gina had elevated her youngest child, Ginia, to the boards of three family companies that control her $10 billion empire, thereby indicating for the first time her likely choice of successor. Ginia is the one child who declined to take legal action against her mother.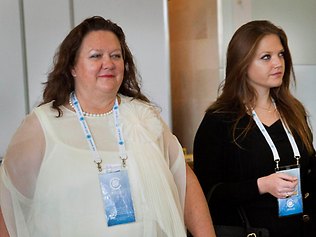 Gina's wish to have internal dissension resolved privately is perhaps understandable given the inglorious 11-year battle she waged with her father's third wife, Rose Lacson, following her father's death in 1992.
Gina had hired Rose as her father's housekeeper in early 1983, 19 days after Gina's mother's death from breast cancer. Perth was never to be the same again.
Fluent in three languages and hailing from a prominent anti-Marcos family in the Phillipines, Rose had been kidnapped by her first (Filipino) husband, a political warlord; been married to a second (Malaysian) husband who'd become involved in a credit card swindle, and had reportedly worked at her uncle's bar in Manila's red light district.
Gina knew none of this when she appointed her to look after her newly-widowed father in his sprawling whitewashed mansion. All she knew was that from practically day one she despised the woman, a feeling that was entirely reciprocated.
Neither Gina nor Rose agreed to be interviewed for this story, but when spoken to 14 years ago by this writer, Rose declined to say exactly when or how she came to slip between the sheets of her employer's bed, only that the nature of her relationship with Lang began to change about four weeks after she arrived, towards the end of May 1983.
When Gina discovered the liaison she hit the roof and by September of that year had banished Rose from the house and was threatening to evict her father as well. She was empowered to do so because she lived in a second house behind her father's, and both properties were, for taxation purposes, in her company name.
A year later Lang Hancock applied to the Department of Immigration to have Rose given permanent residency status. Gina and her second husband, Frank Rinehart, who died in 1990, tried to have the residency cancelled, sending Gina's father into a volcanic rage. Lang Hancock loathed Frank Rinehart.
In a letter to his daughter (a copy of which was obtained by this writer and published in two subsequent books) Lang wrote: "As for the children being ashamed of me (because of my relationship with Rose), I think they are more likely to feel more embarrassed by being picked up from school by a young mother who has let herself go to the point where she is grossly overweight.
"If you won't consider my well-being, at least allow me to remember you as the neat, trim, capable and attractive young lady (you were) rather than the slothful, vindictive and devious baby elephant you have become. You have accused me of misusing company funds. To this end please do not use any of the company credit cards."
One year later Lang and Rose were married in Sydney. Gina declined to attend the wedding.
***
In Perth, the big money shouts from the Swan River. Mansion after mansion of private river frontage with spectacular views across the blue currents to the Swan Estuary and the aptly-named Lucky Bay.
The home of Kerry Stokes, chairman of the Seven Network, stands majestic on the other side of Point Resolution to Gina Rinehart's massive pile and its sweeping garden of Norfolk Pines and white roses.
Across to Mosman Bay, the former home of Angela Bennett, the 7567 square metre property sold in 2009 for a record $57.5 million to mining millionaire, Chris Ellison. (Angela Bennett, you will remember, is the daughter of Lang Hancock's former partner, Peter Wright, who has been at war with Gina Rinehart for the past nine years.)
And just around the corner from Bennett's old home, a subdivided block of Palazzo apartments that used to be Prix D'Amour (the Price of Love), the Gone With The Wind-style mansion that Lang Hancock built for Rose after they were married.
Razed to the ground six years ago, it was here that Lang died in such physical and psychological torment in 1992 and here where I visited Rose (by this stage a recovering pethidine addict) and her fourth husband, William Porteous, during the height of their legal battle with Gina in 1998.
"I AM NOT A MURDERESS," she exclaimed over dinner, after having taken me on a grand tour of rooms the size of small houses, a Versailles ballroom and a sweeping stairwell with columns of imitation marble.
Rose's furious denial had been prompted by Gina accusing her of haranguing Lang for money, concealing his respirator, feeding him fatty foods, changing his medicines and employing voodoo practices – all with the express aim of hastening his demise in order to secure her share of his fortune.
As one of Gina's advisers told me at the time: "Rose f…ed him, then she killed him."
To Rose and her supporters the allegations were not only absurd and unfounded – as they were later deemed to be – they were proof of Gina's all-consuming greed, hatred and lust for revenge. As a former ally of Gina's also told me at the time: "She (Gina) wants a public execution [of Rose] and she won't stop until she gets one."
For nearly a decade, Gina Rinehart sought a coronial inquest into Lang's death, insisting her former step-mother had been responsible for her father's demise.
An autopsy showed, however, that Lang had died of arterioscheloric heart disease, with police seeing no reason to disagree. Two successive state coroners refused to allow an inquest, but after considerable political pressure an inquest was finally granted, on the basis of fresh evidence, by a third coroner, Alistair Hope.
It began in April 2001 under new chief law officer, Jim McGinty's watch. "As (Labor) Attorney General, I took the unusual step of criticising the coronial inquest because it had been turned into a circus with Mrs Rinehart paying six figure sums to witnesses to give evidence," he tells the Weekly now in a Perth café.
"It was no reflection on the coroner, it was a criticism substantially of Gina and I remember it being a matter of some debate at the time as to whether a criminal offence had been committed by Mrs Rinehart. The difficulty would have been to establish that she was paying people to not tell the truth."
What was less difficult to establish was that Gina's former legal adviser, Alan Camp, had broken into Lang's desk three months before Lang died to photocopy the old man's will. Although Camp said he had done this with Lang's permission, Rose's lawyers insisted he had done it in order to generate a deed to bankrupt Lang's estate, (and therefore disinherit Rose), by vesting all his assets back to the company which Gina was destined to control single-handedly.
"I have been a lawyer for 30 years and I have never witnessed a case like this," Rose's former legal adviser, Nick Styant-Browne, tells the Weekly from Seattle where he now lives.
"(Gina's) allegations that she (Rose) had any involvement in any conspiracy to do any harm to Lang was utterly baseless, and the coroner found that out."
***
Gina Rinehart doesn't make it easy. During the coronial inquest she arrived with wet hair, dowdy clothes and spoke so softly the court had to install special equipment to amplify her voice. During my own interview with her a few years earlier she was barely audible, speaking like a little girl with a deathly stage whisper. At the time she drove a Jaguar with bulletproof windows, as well as kept a retinue of former army and SAS officers in her private employ.
She'd also hired a former senior NSW policeman to manage her personal security operations, which included having her two younger children escorted to school each day and security guards posted around-the-clock in apartments next door to where she lived.
Not only does she refuse to be interviewed today, she makes it difficult for others in her employ to speak on her behalf. Her "Information Manager," Mark Bickerton, declined to talk to the Weekly, saying he was "busy getting ready" for his annual Christmas break. Cheryl Edwardes, West Australia's former Attorney General and now head of government relations for Gina's company failed to return several calls.
When I decided to visit her Perth office unannounced, I was told "Mrs Rinehart was away," and that an interview was impossible. The reception boasted a large plaque on the wall detailing Lang Hancock's historic flight, a framed Telstra Australian Businesswoman of the Year Award which Gina won in 2009, a model plane standing on a large chunk of iron ore, and various mother-of-pearl gifts from Chinese clients.
Gina Rinehart can be proud of some of her efforts to date. When she inherited the company from her father in 1992, Hancock Prospecting was mired in debt. Today, thanks to her own diligence and a resources boom which shows no sign of abating, company profits have soared into the hundreds of millions.
But to say that Australia's richest person is an unpopular figure in many quarters is an understatement. She has fallen out with managing directors, security officers and bodyguards, political and legal advisers, geologists, engineers, accountants and up to 16 law firms, from where she's sacked as many as 30 barristers, 20 of them eminent Queen's Counsels.
"She sacks everyone who gives her advice she doesn't like," Nick Styant-Browne says. "Her modus operandi is to litigate everyone and she falls out with everyone."
Given how money defines Perth, few are inclined to discuss her publicly. "Please don't make me talk about her," one former associate begs. Only later, on the condition of anonymity, does this person relent. "She doesn't know how to treat people. Her father told her: `Gina, everyone will be after your money,' so her life has been built around suspicion of people. No relationship can be normal. I think she is very lonely."
As her father once said when explaining the decision to send Gina from the Pilbara, where she'd spent her early childhood, to St Hilda's boarding school in Perth: "The only companions she had were kangaroos and lizards, so to speak. As she gets older she'll have a lot of responsibilities … so it's most necessary to give her a balanced education, balanced outlook, so that she can learn to live with and handle other people."
Beyond her giant mineral holdings, Gina's interests have now widened to include Channel Ten and Fairfax newspapers. She is thought to be the driving force behind Channel Ten's decision to give Andrew Bolt, Australia's most vocal climate change denier, his own television show.
Last year she donated funds to British climate change skeptic, Lord Christoopher Monckton's tour of Australia, causing outrage amongst academics and climate scientists.
In June she appeared on the back of a flatbed truck in high heels and pearls, a megaphone in hand, to address a Perth rally protesting the federal government's proposed super profits mining tax.
"All I could think of when I saw her on that truck was greed is good," says Jim McGinty, echoing Gordon Gecko's famous line from the film Wall Street.
Gina has also published a seven point plan for Australia, which includes loosening environmental regulations, cutting taxes on mining and importing cheap migrant labour from Asia. In the past, she has also supported plans to revolutionise open cut mining by using nuclear explosions.
It seems Australia's richest person has begun to find her voice and for men like Ron Manners, a fourth generation West Australian prospector, businessman and friend to both Gina and her late father, this is not before time.
"They're the bloody creators," he tells the Weekly. "They create wealth, jobs, prosperity. The only problem with Gina is that there aren't more of them."
That's certainly one way of looking at it.